Head Teacher's Welcome
Thank you for expressing interest in Green Park Village Primary Academy, a free school academy part of REAch2 Academy Trust.
I am proud to be appointed Head Teacher of Green Park Village Primary Academy by the DfE and REAch2 and to have the unique opportunity to create a wonderful school at the heart of a new community in Reading.
The Green Park Village Primary Academy staff team work extremely hard for our families and all wish to 'make a difference' to children's life experiences and enable our learners, of all abilities, to achieve.
Achieving academically and personally through experiencing a variety of meaningful learning experiences is our core aim so that children can 'Be the best they can be'. We will utilise all that our modern building, grounds and resources offer- the children of Green Park Village Academy are fortunate to have such a stunning school in which to grow and to learn. We wish to use and be part of innovative educational developments.
Green Park Village Primary Academy puts safety and wellbeing at the heart of all its practice. The strong pastoral care and bespoke provision for all learners will be successful in ensuring that children are and feel well nurtured, supported and safe in order to be able to achieve in learning.
We expect every child to make good progress and to attain, so that they are ready for, and able to thrive in their next stage of education. In addition, there is a focus on the development of self-esteem and self-confidence, so that children feel confident to embrace opportunities that come their way in school and in their future lives.
Our vision statement is: 'Enabling Excellence for Exceptional Futures'– all of us- children, staff and parents- working together for the best opportunities and experiences for the children in our school and community.
We have uncompromising high expectations in all areas of our work in school, including around children's personal presentation, attendance and punctuality as children have one chance at their primary education and we wish for all the wonderful opportunities that we offer to be utilised. We ask that all parents and carers work together with us as partners in aiming for the best for their child through supporting excellent attendance and reading with their child at home.
Our bespoke curriculum and basic skills focus (Literacy and Numeracy) takes account of our children's interests and experiences whilst developing skills for life and the application of these. Communication is a key theme for us as a school providing our children with essential skills and enabling them to be able to express their feelings, opinions and ideas confidently and competently.
We will work together to continually evolve our school, being one:
Where all children consistently achieve of their best- no limiting factors;
Where all children develop high self esteem and self confidence, being able to make informed choices and to have high aspirations for their futures;
That reaches out to further support the needs of our evolving community.
Please contact myself and the school team directly if you wish for further information. We are all very happy to help you. I look forward to meeting local children and families as we continue to grow our school as a community and as a school within our community.
Warm wishes,
Gemma Jackson
Head Teacher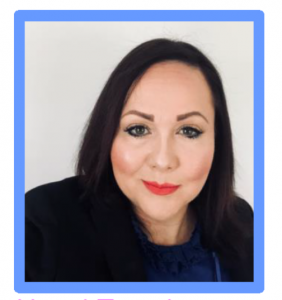 Here is what our children, parents and staff say about our school.
Please click here to view a photo video of our school.