Computing
Computing skills are taught as a discrete subject, however will also be applied across the other curriculum subjects as meaningful opportunities arise.
In Early Years opportunities to practise or develop skills will be integrated into the planning of the activities for the classes/ unit and children will be able to use/access class/school IT equipment, in the same way that they would access any learning resource in school.
In Reception we use the Rising Stars modules and this is how they are spread out across the children's Reception year:
In school we have our 'Literacies for Life'. Digital Literacy is explicitly covered within our Computing Curriculum. We use objectives from the eight strands in 'Education for a Connected World':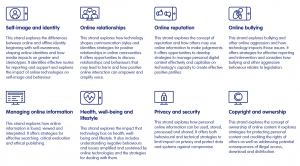 Teachers select the objectives appropriate to the current progression of learning of to make a learning point as an online safety point arises for a child or the class of children.
Here is the online link to the whole document: Education for a Connected World
Post opening our school, this resource was updated to the Evolve Toolkit.